3D ultrasonic inspection system (Matrixeye™)
Matrixeye™ ST for spot welding inspection
Features
The world-first 3D SAFT(*1)inspection equipment with phased array function which enables higher resolution and higher sensitivity
(*1)SAFT:Synthetic Aperture Focusing Technique
Feature 1: Easy-to-see inspection system
Displays high-definition 3D images using a uniquely-developed synthetic aperture method
Feature 2: Automatic pass/fail determination with high degree of accuracy
Measures series of weld points in a parts according to DB(Data Base). Equipped with a function for press welding detection.
Feature 3: No need for replacement of probes
Equipped with a 64-channel matrix probe, eliminating the need for replacement of probes depending on the diameter of welding parts.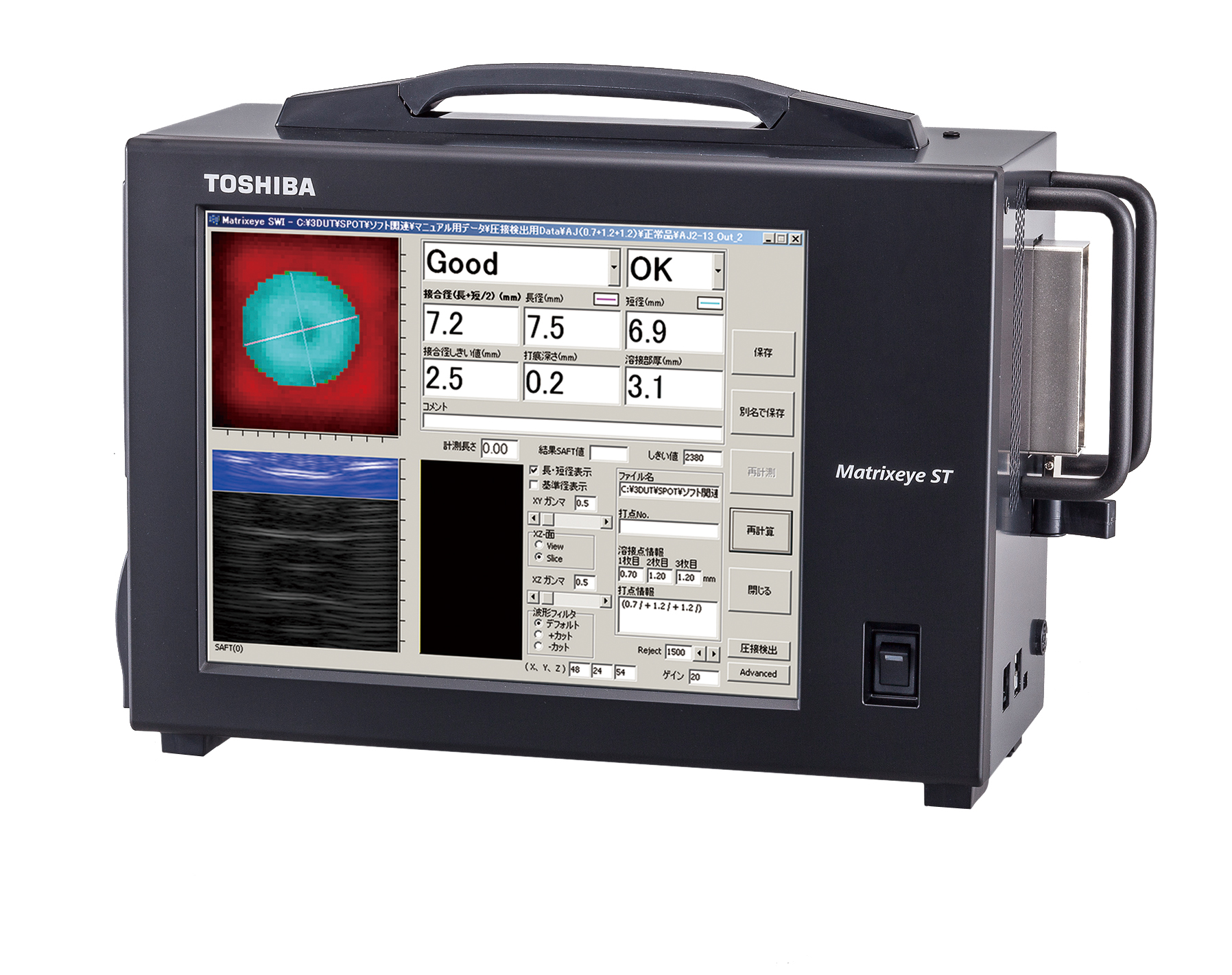 Inspection examples
Inspection result screen

Inspection examples
Specifications of the main body of Matrixeye™ ST for spot welding inspection
Items
Specifications ※
Note
Pulsar
Range of transmission delay
12.5ns
Transmission delay
12.5ns × 4095(51.18μs)
Pulse voltage
20V~180V
Tranmission pulse width
variable(12.5ns~1000ns)
12.5ns/step
Receiver
Number of receive channels
64ch
Amplifier frequency range
0.5~25MHz
Gain
0~50dB
Imaging
Image synthetic process
SAFT
Power supply
Battery
Li-ion battery(95Wh)
Number of batteries
1 or 2
Battery operation time
2h,4h(use of two batteries)
AC
100V~240V 50/60Hz
Ambient
condition
Ambient temparature
5~35℃
Ambient humidity
Relative humidity:20-80%,
Non condensing
General spec
Dimension
3W:305×D:130×H:210mm
Weight
Approx 5kg
CPU
Atom D510 1.66GHz
Memory
2GB
Hard disk
500GB
OS
Windows7 Pro for EMB
Display
10.4-inch touch panel display
USB
2.0×4
Accessories
Keyboard/Mouse
Remote controller
Battery × 2
Battery charger
AC adaptor
Power supply cord
※The specifications above are subject to change without notice.
Specifications of spot welding inspection software
Items
Specifications
Note
Number of welded plates
to be inspected
Two or three plates
Collective setting of
plate thickness
The combination of plate thicknesses of multiple welding points is set in a collective way. A list created by Microsoft Excel is exported to a Welding Points Information File.
Setting of imaging conditions
Iron, aluminum
Surface adjustment function
Adjusts the position of the surface of inspection object to be visualized
Parallelism check function
Checks the parallelism between a probe shoe surface and a sheet during measurement (imaging)
Display of results
Pass/fail determination (Good, Small or Open)
Good and Small are determined based on preset threshold values.
Major and minor axes of welded part
Average diameter of welded part (= (major axis + minor axis)/2)
Depth of impression
Thickness of welded part
List of saved data
A list of saved data is created in CSV format.
※The specifications above are subject to change without notice.
Matrixeye, Finethrough are registered trademarks of Toshiba Energy Systems & Solutions Corporation.
Microsoft, Windows and Excel are registered trademarks of Microsoft Corporation in the USA and other countries.