Fluoroscopic inspection system with Color I.I.™ (Finethrough™)
TCX4200A
Features
Feature 1: Improved sensitivity
Decrease in X-ray energy allows for acquisition of higher-contrast images.
Feature 2: Improved resolution
Even a minor defect can be displayed at a high resolution.
Feature 3: Expanded dynamic range
(100 times as wide as that of our existing products) An image of composite material can be taken at one time.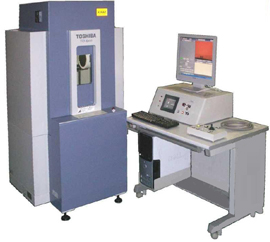 Inspection examples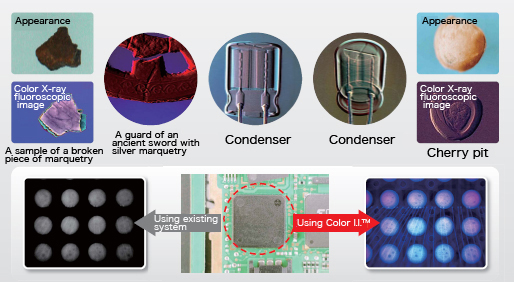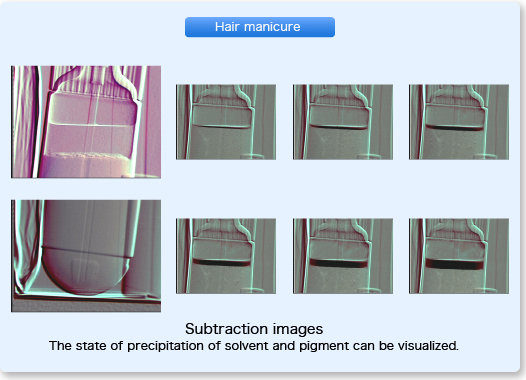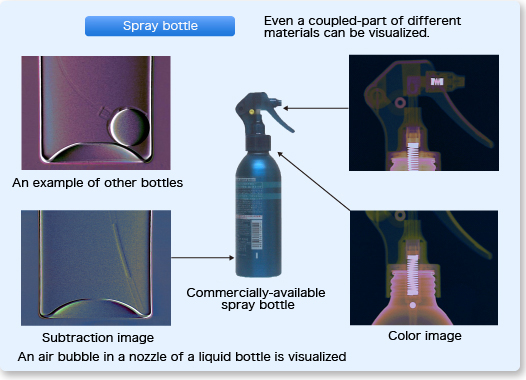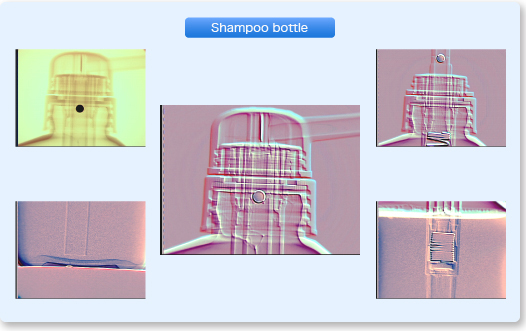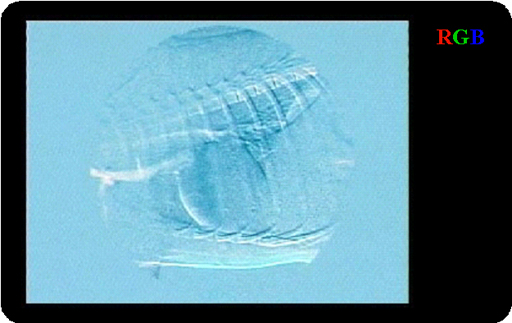 Display image by Color I.I.™
Specifications of TCX4200A
Model
TCX4200A
XX-ray tube
Mini-focus X-ray tube
Voltage range of X-ray tube
10 to 60 KVp (竕、0.83 mA) or 40 to 100 KVp (竕、0.5 mA)
Focal spot size
100 microns (nominal value)
X-ray detector
Color image intensifier (Color I.I.™)
Inspection field of view
4inches: 4°φ and 2°φ (two-mode switching)
Camera
Color 3 CCD camera (410,000 pixels in NTSC system)
Main body of fluoroscopic system
Material
Steel (partially lead)
Dimension
Approximately W850mm x D800mm x H1600mm
Weight
Approximately 550 kg
Travel range of sample table
Side to side: Approximately +/- 150 mm, Front to back: Approximately +/-200 mm,
Up and down: Approximately 230 mm, Rotation: 360°
Direction of X-ray irradiation axis
Horizontal (possible to observe liquid surface)
Maximum dimension of subject
φ150mm × H230mm
Maximum weight of subject
Approximately 5 kg
Measurement control unit
Dimensions
Approximately W900mm x D800mm x H1320mm
Weight
Approximately 70 kg
Control units
1 set of X-ray control unit
1 set of Color I.I.TM control unit
Imaging units
1 set of imaging controller (computer), a 19-inch color LCD monitor
Accompanying software
1) Windows® XP
2) Image-Pro® Express
※The specifications above are subject to change without notice.
Matrixeye, Finethrough are registered trademarks of Toshiba Energy Systems & Solutions Corporation.
Color I.I. is a registered trademark of Canon Electron Tubes and Devices Co., Ltd.
Microsoft, Windows and Excel are registered trademarks of Microsoft Corporation in the USA and other countries.
Image-Pro is a registered trademark of Media Cybernetics Corporation in the USA and other countries.